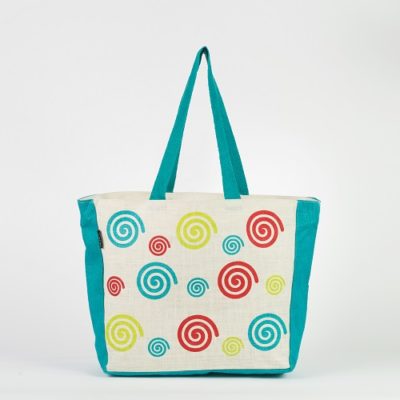 TOSSA, The Continental Conqueror
When you think in terms of indenting, whole-selling and re-exporting eco-friendly jute carry bags to Europe and elsewhere, made by traditional Indian manufacturers, featuring legendary expertise, none can beat TOSSA® brand of biodegradable bags that are unique in design, robust in look and unbeatable in quality. Besides, these are multi-usable, in the sense that you can use the same bag for carrying grocery, as also cosmetic items such as shampoo, soap, shaving crème, etc.
In view of the worldwide ban against use of non-biodegradable, single-use plastic bags, TOSSA® brand of jute/cotton carry bags are also considered to be the best option all over the world.
Background of TOSSA®
TOSSA® is the brainchild of the parent company Euro Okpet Ltd. which is registered in Bulgaria with affiliates in United Arab Emirates as well as in the Indian sub continent. The company is primarily engaged in promoting quality consumer goods throughout the Middle East, North Africa, parts of Asia and whole of Europe. As of now, the group is very much involved in marketing jute/cotton carry bags across countries spread over half the planet, emboldened with its promotional experience covering more than a quarter of a century.
However, the company has lately selected the city of Kolkata (Calcutta) as its prime resource location as the metropolis not only bears a tradition of manufacturing mass scale jute bags since 1869, but also because best quality TOSSA jute is available here in plenty. Over and above, Kolkata boasts quite a few ultra modern jute/cotton bag manufacturing units that are SEDEX and SGS certified for SA 800, while the products are REACH and CAPSIA compliant.
Product Range
TOSSA® offers a bewildering array of biodegradable jute/cotton carry bags that answers to the need of every conceivable use on one hand, while becoming fashionable and trendy on the other. Made from finest quality TOSSA jute fiber, fabricated, printed and produced in a wide variety of style, shape and size, these are regarded as fashion statements in mega cities such as London, Paris, New York and Moscow. Why, these are sold in bulk quantity in TOSSA's home market in Bulgaria with equal aplomb. However, it may be worthwhile to take a sneak peek at some of TOSSA's popular products that are outlined below.
TOSSA® Promotional Jute Carry Bag carrying the printed logo and the message from the buyer company will serve as the highest mode of corporate advertising, procured at the lowest cost. What's more, free distribution of this product will create a new generation of loyal customers you never anticipated earlier.
TOSSA® Jute Beach Bag will serve as your best companion on a trip to the golden beach, alone or with the family. Roomy and sturdy enough to hold the towel (bath size), sun screen lotion, Hairbrush, UV protected sunglasses, a pair of flip-flop for walking on the sand and maybe a Stieg Larsson paperback thrown in will take care of your creature comforts, while the restless sea will soothe the nerves.
TOSSA® Jute Wine Bottle Bag along with a bottle of Dom Perignon winking through inventive window of the bag will be your passport to win the coveted post you have so long been denied to, when you offer the gift to your boss on the Christmas Eve.
Epilogue
Even though a late entry into the arena of fancy jute carry bags that have successfully replaced single-use plastic carry bags, TOSSA® has created a niche for itself in the global market. Why, it has already become synonymous with best quality biodegradable bag anywhere in the world.